Donation Match Provided by The Jessie Ball duPont Fund
Help us raise $50,000! The Jessie Ball duPont Fund is generously matching all eligible online donations, up to $25,000, made to Bay Aging during the month of November 2022. Donate now to double your impact!
(Donations are matched up to $500 per transaction. For generous donations of greater than $500, please make multiple donations of $500 or less to obtain the full match. Donations from businesses, foundations, civic groups/community organizations, or employees of Bay Aging will not be matched.)
Your donation will support:
Caregiver Supports
Caring for a loved one is no easy task! The physical and mental stress experienced by family and friend caregivers drastically lowers quality and length of life. Help Bay Aging give those who give to others their dignity back! Your donation will support a network of services aimed at supporting caregivers across the Middle Peninsula and Northern Neck, including WeCare Counseling, Support and Social Groups for Caregivers, Caregiver Respite Services, and other social supports that lessen the burden on caregivers.
Meals on Wheels – More Than a Meal!
Last year, Bay Aging provided over 200,000 meals and countless hours of support and socialization to frail and homebound older adults. Bay Aging prides itself on providing not just a meal, but also  caring volunteers to check in on clients' needs and offer friendly conversation. Often, the volunteer is the only person the client sees that day and the companionship is welcome! Costing just $5 per meal, donations of any size will make a huge impact for our vulnerable neighbors!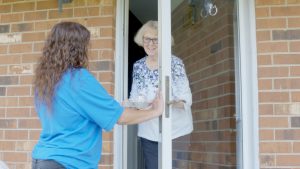 Shelter
Did you know Bay Aging is the leader in affordable housing solutions in the region? Through a supportive network of housing programs, Bay Aging assisted 44 people experiencing homelessness transition to permanent housing, provided housing vouchers to 104 people for safe, decent housing, housed 290 older adults in service enriched apartment communities, and implemented numerous home repairs and modifications making 91 people's living conditions a lot safer in the past year.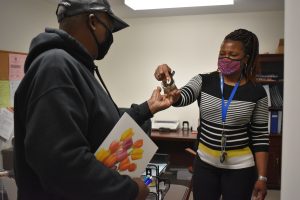 Transportation
Not only is Bay Transit the region's public transportation provider, it also transports our most frail neighbors. Programs such as New Freedom and Med Carry ensure those who require a bit more care are picked up in an appropriate and comfortable vehicle and transported to and from their dialysis, chemotherapy, and other important medical appointments. Bay Transit is a division of Bay Aging.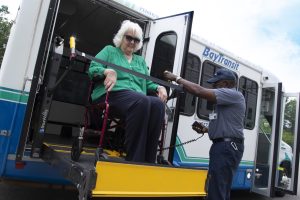 Unrestricted
Your donation will go to those with the most need. With over 30 programs and services, Bay Aging's diverse menu offers support to a variety of individuals of all ages across the Middle Peninsula, Northern Neck, and beyond!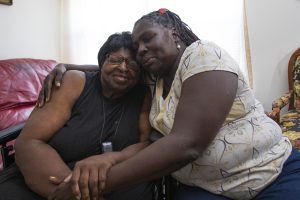 Check out why Meals on Wheels volunteer, Jessica, thinks the program is so critical to our aging neighbors!