For Jessica Schlosshan and Her Daughter Volunteering is a Family Affair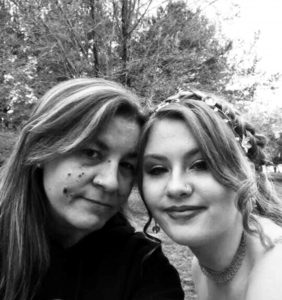 March for Meals Campaign Celebrates Bay Aging's Meals on Wheels Program   
Jessica Schlosshan has been delivering Meals on Wheels in Mathews County for six years, but she's been volunteering since she was a child.  "I've always been an advocate for the elderly," Jessica said.  "When I was in Girl Scouts, we'd go to nursing homes on holidays and play games with the residents.  Their faces would light up like a Christmas tree."
Jessica first learned about Bay Aging's Meals on Wheels program driving by the Mathews County Active Lifestyle Center where she saw a volunteers needed sign.  "I decided to drop in and learn about it," she said.  There she met Laura Matthews, who manages the center and coordinates Meals on Wheels deliveries throughout Mathews County.  "I love Laura.  She's incredible and I was excited to get started," Jessica noted.  Now, after six years of making deliveries in the Cobb's Creek area, "Many of my clients feel like family.  We spend a lot of time with some of the homebound seniors outside of Meals on Wheels.  We celebrate birthdays, bring them books, and even get replacement parts for canes or walkers."
The "we" Jessica referred to are both the Meals on Wheels recipients and her daughter, Raven, a senior at Mathews County High School.  "She loves Meals on Wheels," Jessica said.  "Raven has been riding with me and participating when it doesn't conflict with school.  If I'm sick, she can cover for me and does my route when needed so we don't have to have Laura scrambling for a substitute volunteer. The Meals on Wheels recipients love Raven and she loves them.  It's become a family affair for all."
Meals on Wheels volunteers often cite the many benefits they realize from volunteering.  "They are a blessing," Jessica said.  "It's one thing I always look forward to.  If I'm having a bad day, I just remind myself that I will soon be filling their bellies while they fill my heart."
Laura Matthews said, "We are so thankful to Mathews County Public Schools for the incredible, home-cooked meals they prepare for our seniors every week."  Added Jessica," The ladies in the Mathews cafeteria who cook the meals are incredible!  The food they make early every morning is prepared with so much love.  The Cobb's Creek route takes me about three hours, yet the last meals is always hot and just as delicious as the first."
Bay Aging is almost always seeking individuals to give of their time as volunteers in our Meals on Wheels program.  Typically, volunteers serve approximately two to three hours once a week delivering meals to the seniors in their community.  However, we are extremely flexible and can arrange a volunteer schedule that works for you.   Ken Rogers, Director of Bay Aging's Retired and Senior Volunteer Program (RSVP), noted, "Almost every county we serve has a rapidly growing senior population and, in many cases, Meals on Wheels deliveries are the only way these seniors can continue to live independently in their own homes.  For example, about a third of the residents in Mathews County are age 65 or older and many of these seniors live alone."
The national March for Meals campaign is an annual month-long event designed to generate public awareness about senior hunger and isolation and to celebrate the invaluable services provided by senior nutrition programs. Given the exemplary public-private partnership that Bay Aging's Meals on Wheels embodies, this annual campaign is also intended to showcase the successes of the Older Americans Act, help recruit new volunteers from our community and to increase fundraising from local businesses and supporters. To volunteer and/or donate, please visit www.bayaging.org/support.
About Bay Aging:
For over 40 years, Bay Aging has been caring for older adults and people with disabilities in the Northern Neck and Middle Peninsula with meals, home and personal care, public transportation, home repairs and living options. Our goal is to help people live independently in their own homes and communities surrounded by their own things and, wherever possible, their families and friends. Our top priority is to keep independence, home and community at the hub of life in the rural counties we serve.
Last year Bay Aging's services affected over 23,000 lives!  Every year, we:
Deliver 144,688 meals to those who might otherwise not have a reliable source of food.
Provide over 140,000 public transportation rides that help people of all ages access jobs, health services, education and other consumer needs.
People want to age safely in their homes and communities. To help them realize this goal, Bay Aging's Housing Division owns and operates ten income-restricted senior apartment complexes throughout the region providing safe and affordable homes for 365 full-time residents. Additionally, residents benefit from receiving the social supports they need to ensure healthy, independent living.
Bay Aging's health division provides in-home care and companionship services and transitional care services for recently discharged at-risk, chronically ill patients through our VAAACares® program. Adult day care provides a safe haven for people with Alzheimer's disease and other disabilities so that they can thrive and live with their families longer. The award-winning Veterans Directed Care program provides essential support services for nursing home eligible veterans of all ages who want to continue living at home.