Driving and Older Adults
"The Conversation We May Need to Have"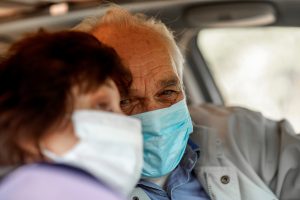 Driving is essential for most adults around the world. Millions of Americans have cars and use them for different reasons, such as driving to work, visiting family and friends, grocery shopping, going to the pharmacy, and attending to everyday needs. However, with driving, there are higher risks. Car accidents happen nearly every day and affect everyone. Accidents that involve older drivers call attention to the issue of older adults and driving safety. Statistics by themselves may indicate that most older adults are the safest, due to high safety belt use and few alcohol-related charges. But medical conditions, medication, and reduced physical function can increase the risk of accidents and injury for older adults. And since driving gives a sense of independence for most adults, it is understandable why it is often a difficult conversation to have.
As a group, older drivers are typically safe. The number of accidents involving older drivers decreases as age increases. However, older drivers, particularly after age 70, have a higher risk of being involved in collisions for every mile they drive. They have higher crash rates per mile than middle age drivers. The rate of fatalities increases slightly after 70 and significantly after 85. This higher rate is due to the increased inability to withstand the physical trauma that comes with age. Older adults have a higher risk of injury or death in an accident, regardless of who was at fault.
Hopefully, these statistics will be the spark for important conversations to begin. The decision to limit driving, however, varies individually. Ongoing discussions and objective assessments help to evaluate the risks in different situations. What may or may not be said can influence the decisions of older adults and make the difference between safety or injury – which could ultimately be life or death. And of older adults who were surveyed that reported someone had talked with them about their driving, more than half said they followed their suggestions.
Something thing to consider is who the older adult is talking to. Hearing sensitive information from the right person can make a big difference. Older adults often prefer to speak confidentially about driving safety with someone they trust, so carefully selecting the person to initiate the discussion will increase the chances of success. Be sure to consider the personalities of those involved in the discussion and past experiences approaching difficult topics.
The Hartford Center for Mature Market Excellence (Hartford/MIT AgeLab) took a survey of older drivers, indicating that they have specific preferences for conversations about driving that vary on several different factors. One factor is spouses. Men tend to prefer to hear from a spouse. But not all couples would choose their spouse for these conversations. Another factor is doctors. Their opinions are often valued by older drivers. Something to keep in mind, however, is that doctors may not be able to detect driving problems based on office visits or physical examinations alone. Adult children can also have an impact on conversations about driving. They have more influence with parents over 70 than parents in their 50s and 60s. A study showed that women are more receptive than men to the idea of hearing from adult children. Most adults said they prefer not to hear about driving concerns from police officers, but it may be necessary for intervention if an older driver is unsafe or unwilling to stop driving.
Older drivers may express strong emotions when someone talks about their driving. A study found that 26% of older adults reported feeling sad or depressed after the conversation. Less than 10% responded with anger. These negative reactions are usually a result of the message, not necessarily the messenger. There are perceived implications to not driving. Older adults may interpret this as having fewer trips outside the home, increased or permanent dependency on others for transportation, and fewer social opportunities. Family members can also experience strong emotions. A calm response will ensure productive discussion and defuse negative emotions about the topic. Families in the Middle Peninsula and Northern Neck region should be aware of Bay Transit, a safe alternative form of transportation that allows people of all ages to maintain their independence.
Early, occasional, and honest conversations will establish a pattern of open dialogue and can reinforce driving safety issues without the strain of asking a person to change their driving behaviors. It will allow older adults to consider their driving skills and make the necessary changes. Certain situations can help to create space for conversations to happen, such as car accidents, near misses, self-regulation of driving and health changes. Most older adults believe that family members should talk to them when a potential problem occurs.
It is important to prepare for these conversations about limiting or stopping driving. Be sure to get all the facts and learn about the warning signs of driving problems. Observe the driving of the older adult in question and try to notice any patterns. Discuss any concerns with a doctor and determine what information you will need to provide, given the older adult's medical condition. Investigate alternatives for helping the driver adjust to limitations. Consider ways to satisfy social and transportation needs such as Bay Transit. And most importantly, be supportive. The transition from being a driver to being a passenger is not easy. Supporting and understanding older drivers is essential. There may be several conversations about driving and safety, so it is important to not be dissuaded by negative reactions. Be sure to share your concern and desire to protect the driver's best interests.
If a driver does not realize that their driving is a serious problem, and their skills deteriorate even after restrictions, it is very important to have a follow-up conversation. These could occur with family members, doctors or even law enforcement officials if necessary. If you are unsure as to whether a driver's skills are deteriorating, there are tests for cognition, reflexes, vision, flexibility, and visual attention, which are all important for driving. A doctor may refer to a qualified occupational therapist for a comprehensive driving evaluation. It allows the therapist to help the driver with being safe and determining whether specific equipment is necessary.
If the older driver has dementia, they should be given the opportunity to make decisions about driving, if their safety is not compromised somehow. Over time, they will start to lose the ability to assess their own driving skills. Anyone with a diagnosis of Alzheimer's or any form of progressive dementia, will eventually lose the skills necessary for safe driving. In this case, family members and doctors need to collaborate to protect the person and may need to take immediate action. Getting lost in familiar places is a serious warning sign. If persons are confused and forgetful, they may not be able to respond to the constantly changing road conditions.
Having to limit or give up driving is not an easy decision for older adults to make. Families can help to make these decisions by having frequent, honest discussions about driving safety and health. Transitions ideally happen gradually, which will allow all family members to adjust to the new circumstances. Good preparation and caring communication will help to have successful family conversations. For more information, details on warning signs in older adults or additional resources, feel free to check out the Hartford Center for Mature Market Excellence. For any questions or concerns about resources within the Middle Peninsula/Northern Neck regions, visit https://bayaging.org/ or call 800.493.0238. To learn about Bay Transit and how public transportation can help your loved one maintain their independence call 877.869.6046.
*Information from this article was pulled from the Hartford's Driving Safety Guidebook, We Need To Talk: Family Conversations with Older Drivers.